From the Admin Menu, click Maintain Users. Highlight a user and click on the Delete/Deactivate Button
Delete vs Deactivate
Deactivating a user does not remove the name so they will still show up for previous events and workflows. However, a deactivated user will not show on any of the drop down lists for user assignments and will not be able to log into the system.
If you try to delete a user who has completed workflows or completed events in the calendar, the system will automatically switch you to Deactivate.
Delete
Choose Delete if the user has not been involved in workflows.
Events completed by this user must be preserved and linked to the user. Therefore, if there are completed calendar events associated with the user, you will need to deactivate the user instead.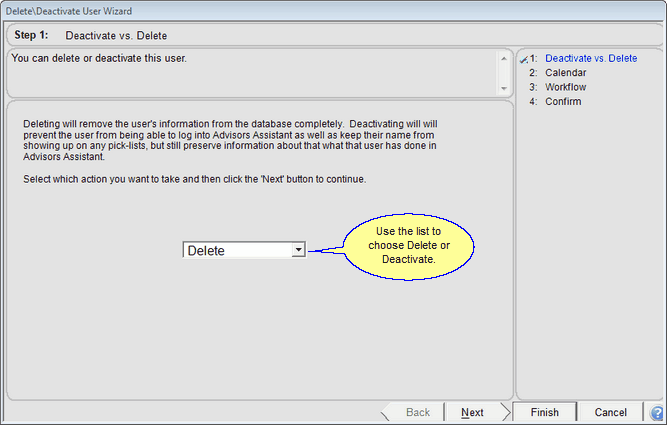 The System Will Show You This Screen If Delete Is An Option
Choose Deactivate if you want to disable the login because the user may return to using Advisors Assistant or they have their name on previous calendar events or workflows. Deactivate will prevent the user from logging in but will preserve the name for completed events.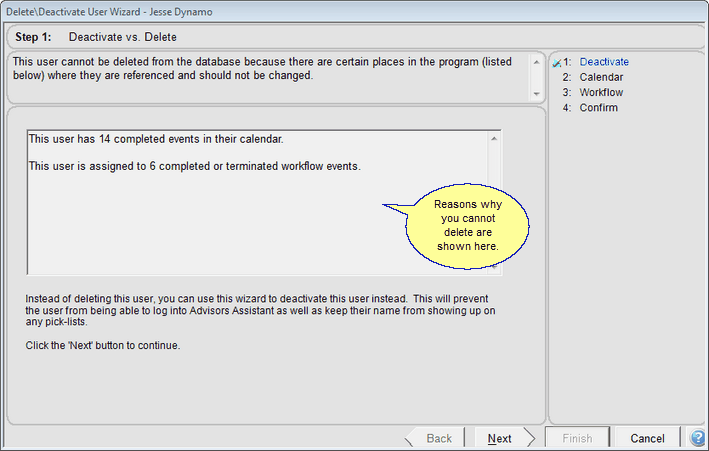 If you are not able to delete the user, this screen will show you why.
Read the screen and then click Next.
What Happens To Calendar Events
Completed events stay on the calendar after deactivation, but the calendar is removed from the various drop down lists that users see. This is so that, in the future, the event is correctly shown and who completed it is not lost.
Uncompleted Events are transferred to the user you select later in the process.
See Also
| | |
| --- | --- |
| | You will usually want to deactivate users. Only delete users who have only been with you for a short time or do not have their name on any previous calendar or workflow events. |