From the Admin Menu, select Access Rights To Contacts, and from the Access Rights List, click the Add or Modify Button.
Add/Modify Access Rights Overview
The Add/Modify Access Rights Screen allows you to edit the list of Primary Producer names associated with an Access Right to which a database user has access. This applies only to MultiProducer editions of Advisors Assistant.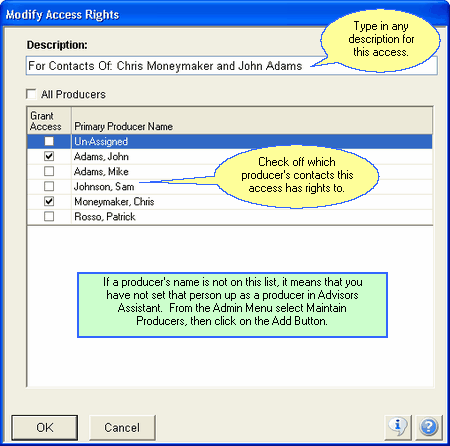 Setting Up Access Rights
Description
The Description is a freeform field designed so you can give a descriptive name to the set of rights you are providing.
Examples of Access Rights Descriptions
John Adam's Clients
Adam's and Smith's Clients
Clients in the Philadelphia Office
All Producers Check Box
Checking this box will automatically check all of the producers on the list. Unchecking the box will automatically uncheck all of the producers on the list.
Producer List
The producer list contains all of the producers you have designated as producers in Advisors Assistant. Use Admin | Maintain Producers to add or delete producers from this list. The un-assigned option means this access would be able to see any contacts that do not have a Primary Producer assigned on the name record.
| | |
| --- | --- |
| | Remember, the functionality of this screen and the Access Rights List only sets up the Access Rights for you to apply. These screens do NOT assign rights to users. Choose Admin | Maintain Users | Modify User | Producer Access to assign the rights. |
See Also