Docupace is a document management system and workflow management system. It is usually adopted by a broker dealer and used for streamlining the submission of applications. Docupace is also used by individual offices.
Advisors Assistant links directly to the Docupace web application with just a click or two.
Docupace automates form submission to Broker Dealers through Quik! Forms. If you are using Quik!, contact Docupace support for a file called a QFX file that will connect your Quik! program to Docupace.
Setup
Setting up Docupace takes 3 steps:
1.Your Advisors Assistant Administrator must fill in the System Preferences on the Docupace Tab. These are the credentials Advisors Assistant uses to contact Docupace.
2.You can create new Docupace Contact Records if your Advisors Assistant System Administrator fills in the Modify Producers, Docupace Tab, with the Docupace Rep ID. The Rep ID of the Primary Producer in the Name Record will be used when a new client record is set up in Docupace.
3.Fill in your User ID on the User Preferences on the Other Passwords Tab. Note that the User ID is case sensitive.
Using Docupace

After setting up your User Preferences, exit Advisors Assistant and restart the program, the Scanning Icon on the Side Bar will be labled Docupace.
We are not able to integrate with the Docupace Scanning Program. That must be started and used outside of Advisors Assistant.
Click on the Docupace Icon to go to your Docupace Desktop.

You are logged into your Docupace Desktop With One Click on the Icon
View Client With Files
In addition to the Docupace Icon, you can also use a special entry in the View Client With Files Screen.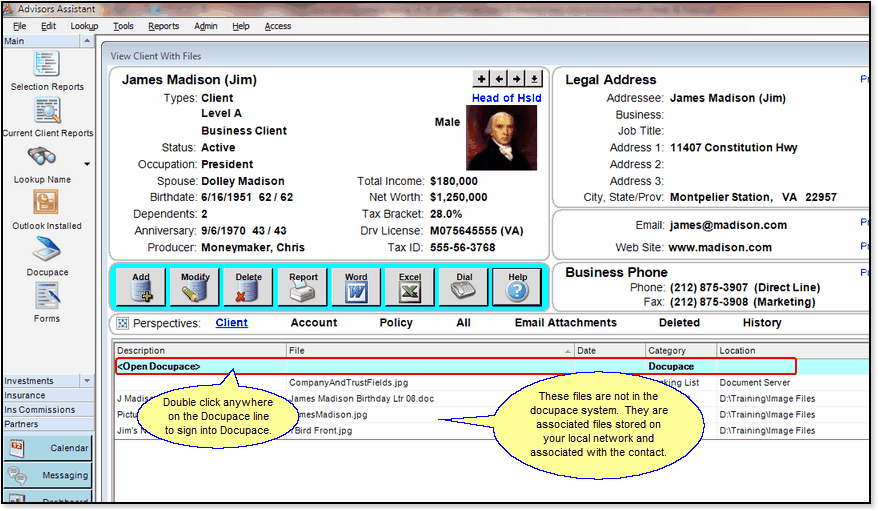 Double Click to load the Client Folder Page in Docupace
Docupace has a scanning program which scans into a temporary holding area on the Docupace web site. At this time, there is no provision to load the scanning module form inside of Advisors Assistant.
Adding New Contact Records To Docupace
If the contact does not have a record in Docupace you can have Advisors Assistant send contact information to Docupace so you don't have to type it in.
Before you can add new contacts:
1.The contact record in Advisors Assistant must contain their Tax ID.
2.Your Advisors Assistant Administrator must have added your Docupace Rep ID to the Modify Producer Section, Docupace Tab.
New contacts that are added must have a Primary Producer assigned in the Name Record so that Advisors Assistant knows which Rep's ID to use when sending the new information to Docupace.
How To Add New Contacts:
1.From any View Screen, click on the Files Tab at the bottom of the screen.
2.Click anywhere on the <Open Docupace line.
3.Advisors Assistant will check to see if the Tax ID and name is present in their system. If it isn't, you will be given the option of adding the contact information for the name.
For sales, contact Docupace at 866-582-3713 Option 1 or http:\\www.docupace.com.
For support, contact Docupace at 866-582-3713 Option 3
See Also
System Preferences For Docupace
Docupace Rep ID