Click on Admin on the top menu (Administrators Only) and then click on Drop Down Lists. Choose Investment Account Type for the Abbreviation Type field.
Overview
The Investment Account Type is useful for determining which clients have different kinds of accounts. For example, IRA, ROTH, Joint Tenancy, etc.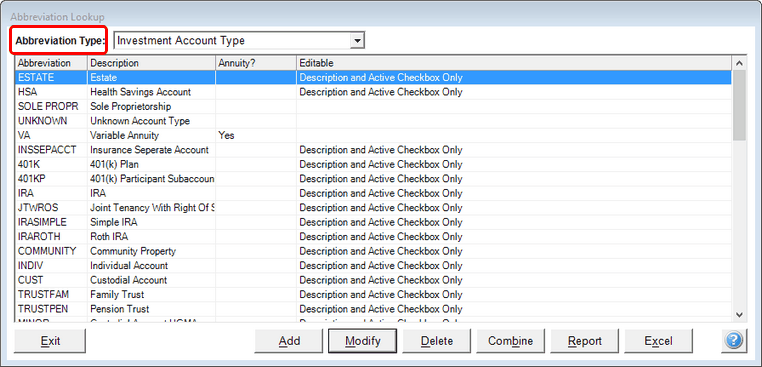 Look Up Account Type to Add or Modify
Click Add, Modify or Delete to make changes to the list of Account types.
Annuity?
When an account type is an annuity, it will show on the View Client With Annuities Screen in the Insurance Module.
Add / Modify Investment Account Type
When you click Add or Modify, the screen below appears.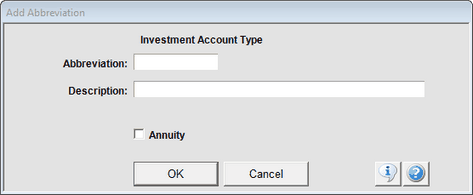 Add or Modify Investment Account Type
Abbreviation
This is the short version of the Description and is used on some reports. You can suppress the Abbreviation in the drop down lists on the General Tab or User Preferences.
Annuity Check Box
Checking this box will make the investment appear on the View Client With Annuity Screen provided the System Preferences (Annuity Tab) is set to have that screen show annuity investments.
Description
Enter the long version of the Account Type.
Investment Account Type Description Examples
Individual Retirement Account
Roth IRA
Joint Tenancy With Right of Survivor
See Also
User Preferences for display of Drop Down Lists
| | |
| --- | --- |
| | User Preferences allow you to choose whether to display the abbreviation, description, or both in Advisors Assistant drop down lists.. |