To get to this screen, click on either the Add or Modify Action Buttons in the middle of the View Client With New Business Screen.

New Business Tutorial (4:10)
Add/Modify New Business Overview
The New Business section allows you to add action items to a contact's name, policy, or investment and even assign follow-up tasks relating to the action item. You can then print reports of all outstanding new business actions, and have a history of what actions have been completed.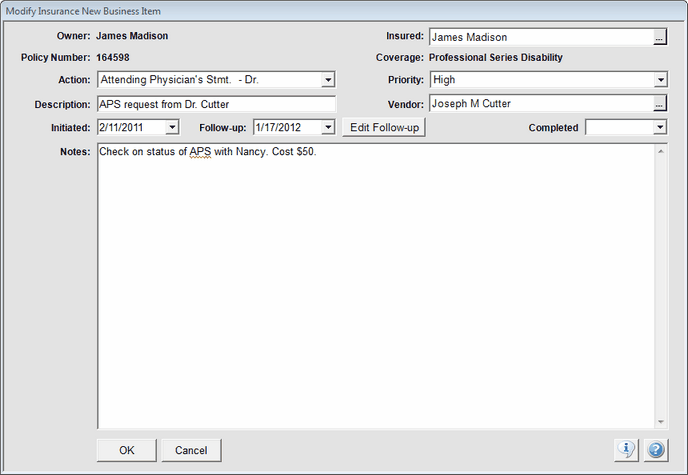 Adding and Modifying New Business
To Add a New Business Action, click on the Add Action Button in the middle of the View Client With New Business Screen.
To Modify an existing New Business Action, double click on the Action or highlight the Action and click the Modify Action Button in the middle of the screen. Details about how to fill in each field are below:
Action
This is the kind of Action Item that you want to add to this name. You can choose from any of the action codes that have been added to the list that appears when you click on the drop down arrow. If you have administrator access you can add a new code by choosing Edit List...
Examples
Send Welcome Letter
App Sent To Client
Send Gift
1: Call For First Interview
2: First Interview
3: Case Prep
4: Presentation - Action
5: Moved to Underwriting
Description
When you select an Action Code, the description of that Action is copied into this Description Field. But this field can be edited, so you can add more details to the Action Description for viewing on the screen and printing on reports. The examples above are actually the code descriptions.
Status
This is the Status of the New Business Action.
Examples
Pending
Completed
Vendor
If there is a Vendor associated with the Action, you can select the Vendor name from the list of names in the database.
Examples
ParaMedics
Mrs. Fields
Initial Date
The date the Action was initialized.
Completed Date
The date the Action was completed.
Follow-Up Date
You can specify a Date for which you would like to Follow-Up with this contact regarding this New Business Action. This will automatically create a Task in your Calendar to remind you of this Follow-Up. Once you select the date the Follow-Up is added to your calendar. If you wish to assign this Follow-up to another person in the office, or edit the Task, click the Edit Follow-up Button under the Follow-Up Date.
Notes
You can add unlimited Notes as they pertain to this New Business Action. As you track the Action until it is completed, new notes can be added.
Deleting New Business Actions
To delete a New Business Action, highlight the New Business Action you wish to delete and click the Delete Action Button. You can always keep New Business Actions in your database for historical references, and just mark them Completed.
See Also