Click on the Calendar Button in the Sidebar to the left of any View Screen. Then click on the word Week at the top of the Screen.
Overview
The Week View shows you the appointments for the week you are currently viewing. You can double click on any appointment to modify it, or you can highlight a single appointment and click in the colored bar to drag it to another day in the week. You can also lengthen or shorten the time of the appointment by clicking and dragging the top or bottom bar of the appointment.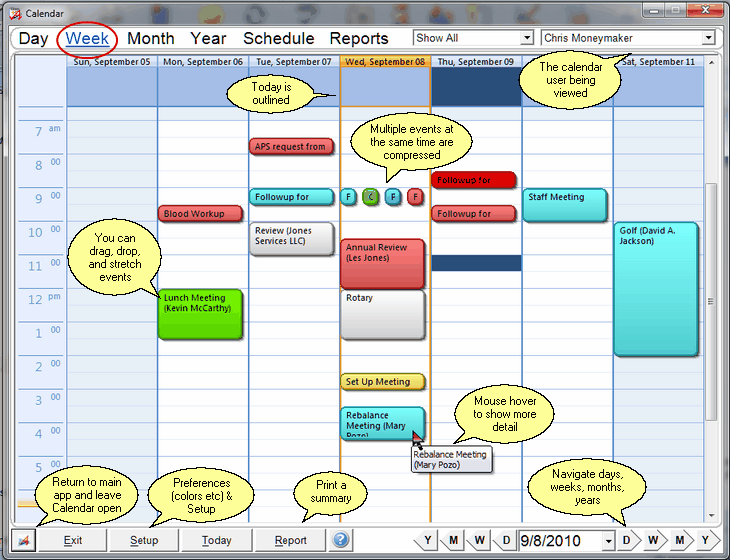 Calendar Week View
Drag And Drop
You can drag and drop appointments to a different time. You can also stretch an appointment by clicking once on the appointment and grabbing the appointment's "handle" at the center bottom of the appointment with the mouse. Hold down the left mouse button and drag the handle to lengthen the appointment's box.
Seeing Details
You can see the event's details by just placing the mouse pointer on the event on the left side of the screen. After about a second, details will show up.
This hover help feature is also available in the Day and Month Views
Add An Event
Double click on a time to add a new calendar event.
Calendar Reports
Calendar reports have their own filter. Click on Reports at the TOP of the screen for the report filter. For a quick report of the graphic depiction of the current screen, click on the Report Button at the BOTTOM of the screen.
Scrolling To Different Days, Weeks, And Months Or Years
At the bottom right of the calendar screen, you can click on the D, W, M, or Y buttons to go forward or backward a Day, Week, Month, or Year respectively.
Show Calls And Tasks
By setting this option, you can show calls and tasks on the Week View calendar. However, if you have many of them, and you use the Print option at the bottom of the screen, they can take up all of the available room for the day.
Workflow Event Restrictions
Workflow events can not be repositioned using drag and drop. They are controlled by the workflow events.
See Also
Setting Up Your Calendar Options
Completing Multiple Events At The Same Time
Transferring Multiple Events At The Same Time
Deleting Multiple Events At The Same Time
| | |
| --- | --- |
| | After dragging and dropping an appointment, double click on it to check that the details are appropriate. |