This screen will appear based on settings in System Preferences Annuities Tab. When the Annuities Tab is authorized by the System Administrator, just click on the tab.
Topic Overview
Advisors Assistant can list annuities separately on their own View Screen. They can also be listed on the View Client With Insurance and View Client With Investments Screens. These settings are controlled in the System Preferences Annuities Tab.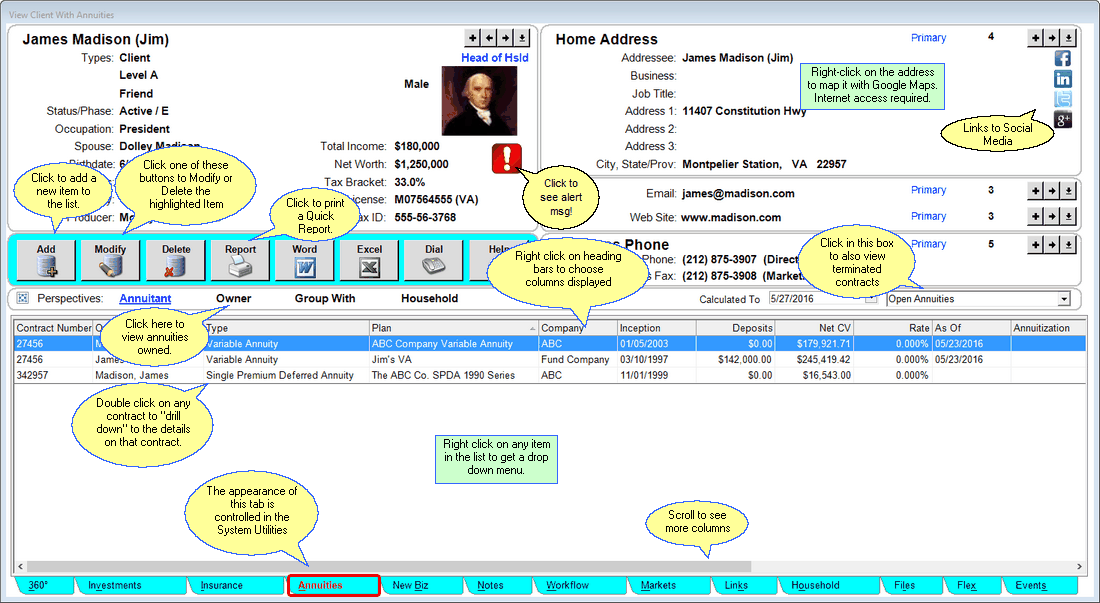 This screen is controlled by settings in System Prefeences

Insurance Class
Advisors Assistant considers a contract an annuity when the Insurance Coverage Class is set to Annuity in the Insurance Master Coverage Plan.
Investment Account Type
Investment products can appear on this screen when the Investment Account Type (Modified by clicking Admin | Drop Down Lists) has the Annuity Box Checked.
See Also
System Preferences, Annuity Tab
| | |
| --- | --- |
| | If you have the Insurance Module and do not see this tab, have your System Administrator enable it in the System Preferences. Also right click on the headings to select the fields you wish to display. |