To get to this screen, click either the Add or Modify Action Buttons in the middle of the View Client With Links screen.

Links Tutorial (5:50)
Add/Modify Link Overview
This screen allows you to Link any two contact names in your Advisors Assistant database, and show how they are related. This is extremely useful for quickly seeing how various contact names in your database relate to each other and, like most things, these fields are available for searches for the purposes of Reports.
The names you have Linked can also be used for automating your applications. Additional information is available in the Application Automation Help.
Adding and Modifying Links
To add a new link to a name, click on the Add Action Button in the middle of the View Client With Links Screen.
To Modify an existing link, highlight the link and click on the Modify Action Button in the middle of the View Screen.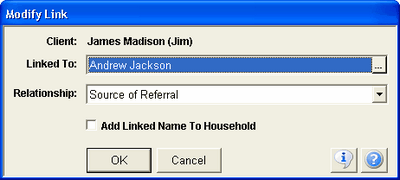 Details about each field are below:
Linked To
Press your Space Bar on your keyboard or click on the Browse Button (

) to bring up the Name Lookup Screen, allowing you to choose to whom you want this contact name to be linked. The contact name must be added to your Advisors Assistant Database in order to link the names together. If the name has not been added, you can Quick Add the name.
Relationship
This is where you specify how the two names are related to each other. Clicking on the drop down list will provide you with a series of pre-defined options, but you can also modify this list by choosing Edit List... if you have access to changing abbreviation codes.
Examples
Child
Employer
Attorney
Referral Source
Add Linked Name To Household
By checking this box, you can have the name you're linking to this contact added to the contact's Household. For additional information about Groups/Households please refer to the Groups/Households Help.
Deleting Links
To delete a Link, highlight the Link you wish to delete and click the Delete Action Button. The Reciprocal Link on the other contact record will also be deleted.
See Also
Adding New Link Relationship Codes
View Client With Households/Groups